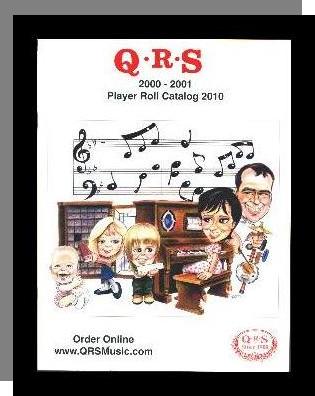 To order new QRS piano rolls:

The buyer must have a QRS Catalog. One can be obtained at the shop, or by calling the QRS toll-free phone number. (1-800-247-6557)

Orders of less than 4 rolls should be ordered directly from QRS. They may be ordered by phone at the toll free number (1-800-247-6557) or on-line at www.qrsmusic.com.

Orders of 4 or more rolls may be ordered from Niewoehner Piano & Clock Workshop at a 10% discount and no shipping charges, but must be picked up at my shop in The Mulberry Tree, 108 Mulberry Street, Elkader, IA 52043.

To order from Niewoehner Piano & Clock Workshop, the buyer must provide the following:
-Buyer's name and address
-A list of the roll numbers requested
-A cashier's check or money order for the cost of the rolls, minus 10%
+Iowa Sales tax of 7%

The order will be placed with QRS immediately upon receipt of payment, and you will be notified when they may picked up.
Current QRS Price My Discount Price
Regular Roll (no price code) $14.00 $12.60
A, B, or C price code $21.00 $18.90